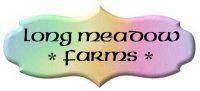 Cobble Mountain Hammock Chairs
available through long meadow farms

The patented design Cobble Mountain Hammock Chairs now come in THREE sizes,
and are all hand made and assembled at the Hammock Shop in East Corinth, Vermont.
The Cobble Mountain Hammock Chair single chair seats are hand woven
by Laurie at the Long Meadow Farms Quilts shop in Newport, Vermont,
and she is an authorized dealer for the finished chairs!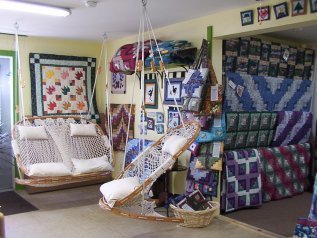 We have both the Single Cobble Mountain Hammock Chair
and the Double Cobble Mountain Hammock Chair
in stock at Long Meadow Farms Quilts (our Newport shop).
Both are set up for customers to try out, with plenty of room to sit and enjoy!
They are mounted through our regular wallboard ceiling
and directly into the beams above the wallboard.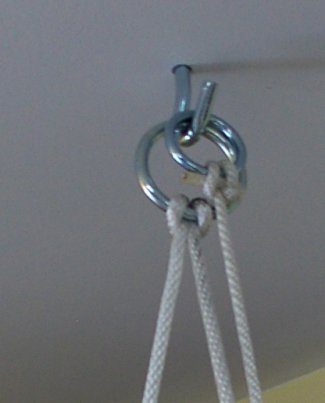 These beams were located with the help of a "stud finder" tool,
and then the normal mounting directions were followed!

Introducing the NEW Summit Hammock Chair!!!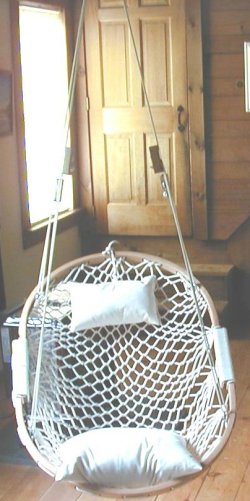 We now have the NEW "SUPER-SIZED" version of the single Hammock Chair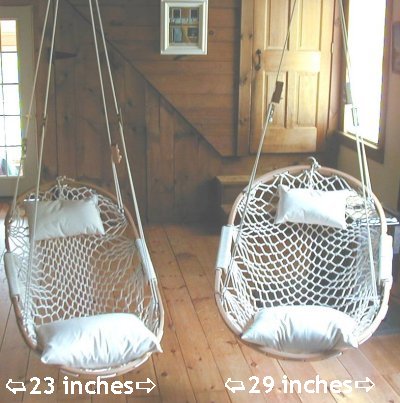 The recommended weight limit for the single hammock chair is 240 pounds, and the
NEW Summit chair has a recommended weight limit of 350 pounds.
The width of a single chair is 23 inches whereas the width of the NEW Summit chair is 29 inches!!!
The NEW Summit chair is like sitting back in an oversized easy chair, complete with footrest!!!
The same wonderfully comfortable hammock chair with foothold, now "SUPER-SIZED" !!!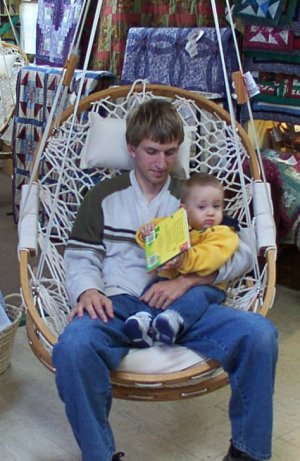 The new Summit chair is perfect for an adult and a little one to read a book together!!!
We have one set up so feel free to stop by and test it out!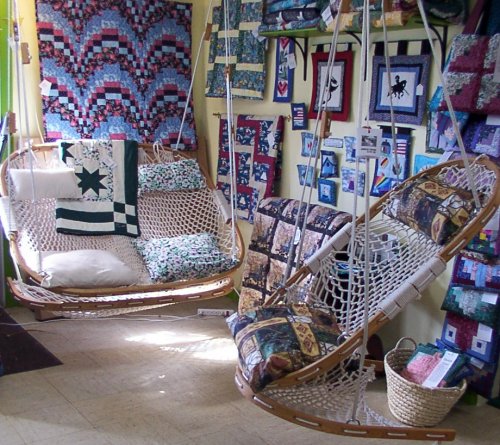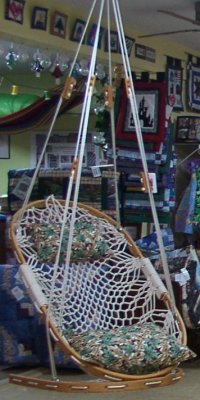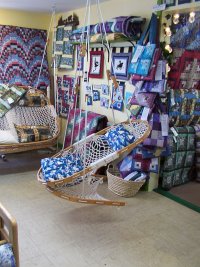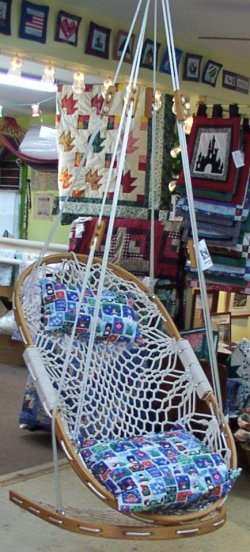 All the hammock chairs are fully adjustable via wooden adjusting blocks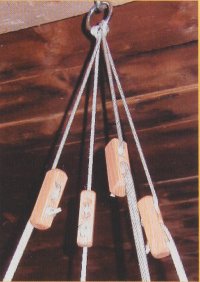 which are easily accessible from the ground (no step ladder necessary) once
the chair has been hung on it's mounting hardware, which comes included with the unit!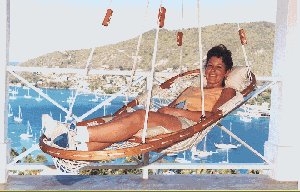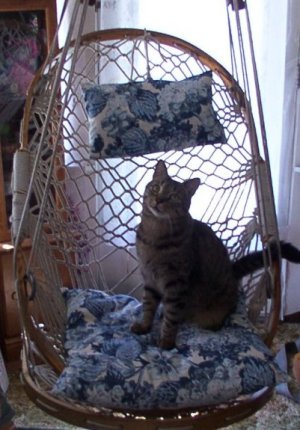 They can be fully reclined for taking an afternoon siesta in the warm summer breezes!!!

Weaving the chair seats here in the quilt shop in Newport, Vermont is a mind boggling sight
for spectators who have never seen single piece rope weaving before:

It starts out as a specially made wooden shuttle wound with cotton/poly rope which is woven on
a specially designed loom, created by Cobble Mountain Hammock Chairs in East Corinth, VT.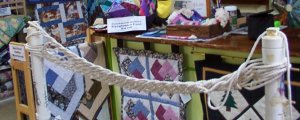 The chair starts off with the first couple of rows, and keeps going until about one quarter complete,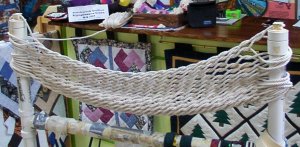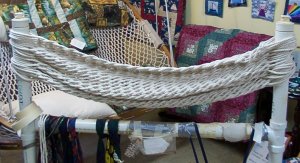 then more and more rows are done, until half complete, and finally finished on the loom!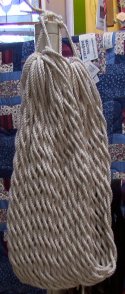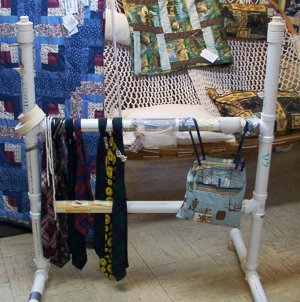 The chair seat is tied off and ready to transport to East Corinth for completion.
(The loom that is used for these chairs has been with me for a number of years,
and is "customized" with decorations and pieces and parts needed by me, the weaver!)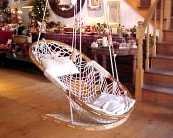 Just a bit of insight as to just how the weaving is done follows in the pictures below: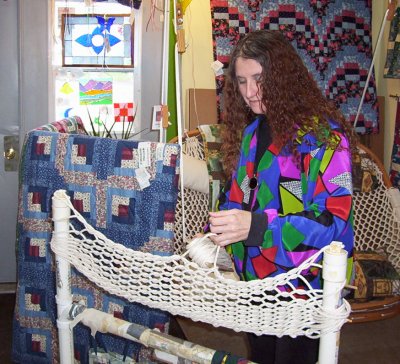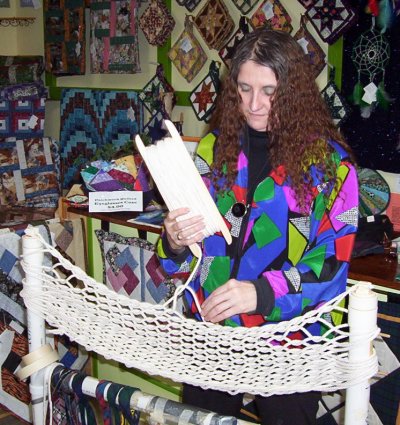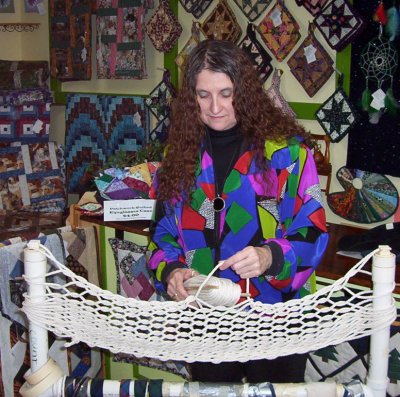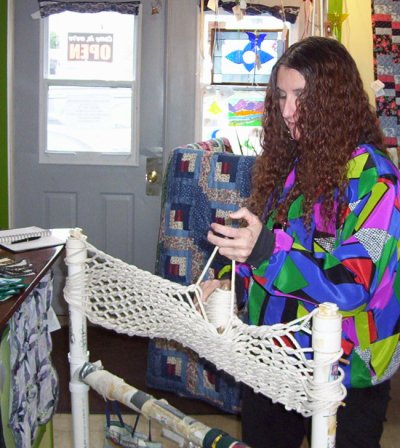 All three sizes of Cobble Mountain Hammock Chairs
are assembled with NO nuts and bolts, everything is bound and tied with rope, the only hardware
being the metal rings which the harness ropes are attached to the chairs with, and even those
are bound and tied into place, along with the wooden adjusting blocks.
All three size chairs are currently in stock and
available at the Long Meadow Farms Quilts Newport, Vermont shop,
and any online purchases (drop shipped UPS) can be made
by calling the shop any day (Mon to Sat) from 10 am to 5 pm EDT at (802) 334 6114!!!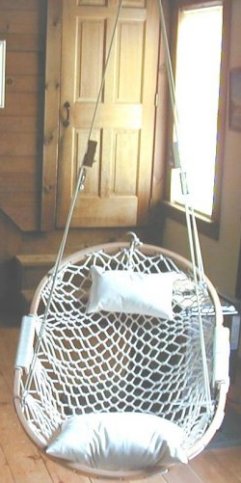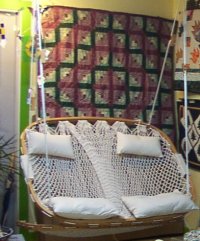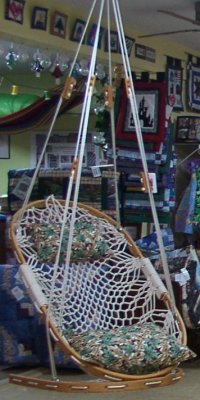 Cost of the Original Chair (with foothold) online is $269 plus shipping,
cost of the new Summit Chair (with foothold) online is $339 plus shipping,
and cost of the Double Chair (with foothold) online is $499 plus shipping.
the Double Chair alone (without foothold) online is $399 plus shipping.
We at Long Meadow Farms Quilts are holding our prices even though
there has been a price increase this year, and the above prices are the
lowest around because of the price freeze here at Long Meadow Farms Quilts!
Click HERE to see what your shipping charges would be upon ordering!!!

Simply call to order a chair
from Long Meadow Farms Quilts!
(802) 334-6114
Feel free to email requests and inquiries also!



© 1998 - 2011
Last Updated July 20, 2011