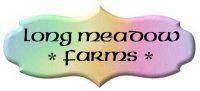 Table Runners
by Long Meadow Farms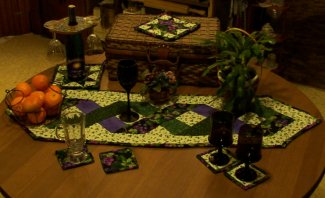 Quilted Patchwork Table Runners are beautiful works of art for your table or sideboard!

Available in a variety of color combinations, these table runners are unique items

individually pieced and then quilted using pure cotton batting for strength and durability.

(Pure Cotton Batting protects the tabletop from heated serving platters and the like!!!)

They would make a wonderful addition to your home for the holidays, or for any time of year!

Each runner is approximately 14 inches by 47 inches, the perfect size to maximize the usable space

of any table and

still allowing for the elegance and beauty of a centerpiece!

They are created in a "Twisted Ribbon" pattern on one side, and a whole cloth on the back,

making each one completely reversible, with a second look all in one table runner!!!

Affordably priced Quilted Patchwork Table Runners are one-of-a-kind items,

but if anyone would like two of the

same runner, please feel free to email me with the request,

and special orders can be filled as time allows.

Quality Crafted in Vermont USA!

Also available in limited quantities:
Matching VT Quilted Patchwork Potholders which can also be used
as a serving companion with the Table Runner
and Coasters in a complimentary color coordinating style!
We now also offer a smaller version
in a "Double Wedding Ring Seamless Arc" pattern called Table Centers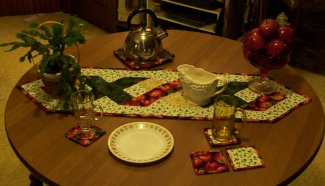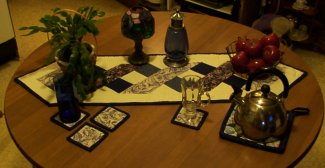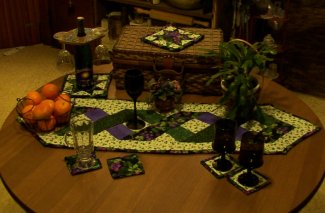 Beautifully pieced and quilted Table Runners are available to purchase in the following colors:
(Just click on a picture for detailed pictures and descriptions on HandmadeCatalog!)

Click on a picture above to be brought to the details and close-ups of that TableRunner!!!


The following have already been sold, but we still maintain their pictures here
so that if you see one you really like, you may call us and we can see if we still have similar fabrics!



































© 1998 - 2011
Last Updated July 20, 2011