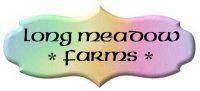 Bed Quilts
All of our Bed Quilts are individually pieced and sewing machine stitched and
quilted using polyester batting for extra depth. Various patterns are quilted in
different designs and all are made to be functional additions to a home, able to
withstand machine washing and drying (gentle cycles, please!).
Each is a unique creation and is signed by the artist.
All quilts are made start-to-finish right here in Newport Vermont! (NO outsourcing!!!)
Custom orders are welcome, call for time-to-delivery schedules!

Feel free to read about "Quilts" subjects in my blog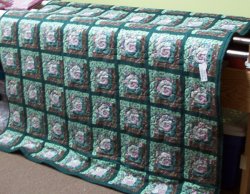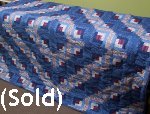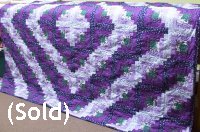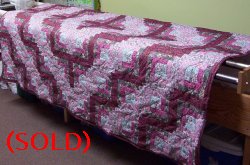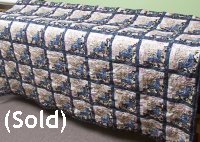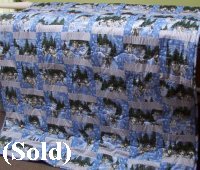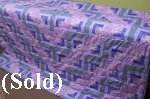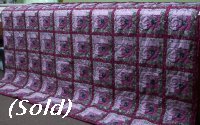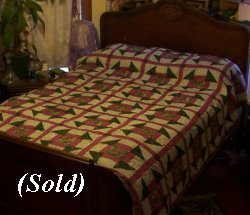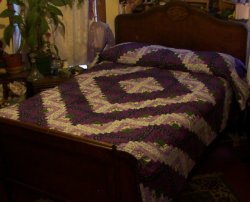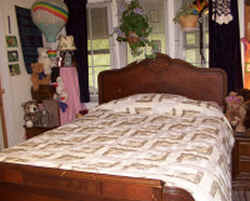 Many sizes and colors of bed quilts now available at our retail store and also at HandmadeCatalog!!!


Bed Quilts Under Construction: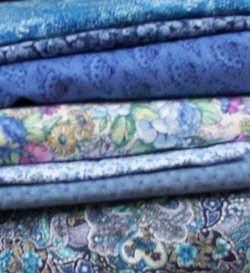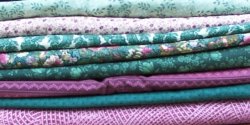 The next two Queen Log Cabin Quilts to be worked on are a turquoise blue and a green and mauve!!!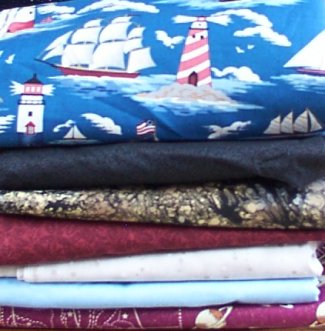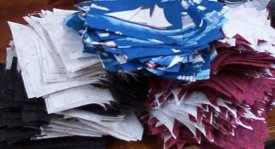 A King Size Churndash Pattern Nautical theme quilt is in progress, February 2008!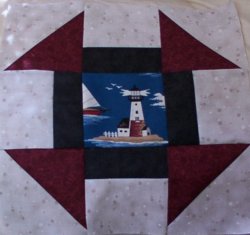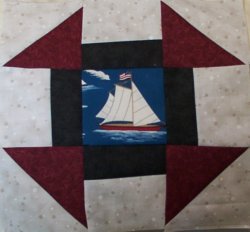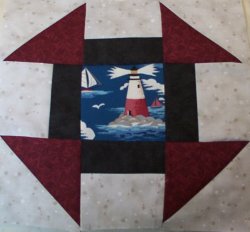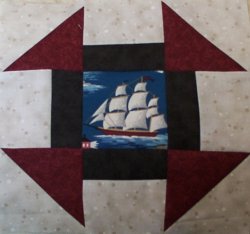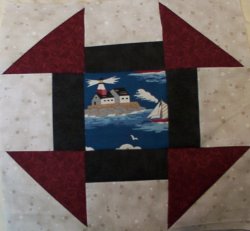 A sampling of various blocks, all with a Nautical theme in the center piece, ready to be put into rows!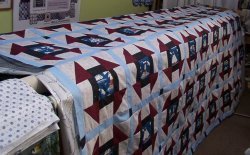 Top is complete, awaiting quilting (February 19, 2008).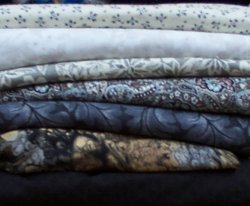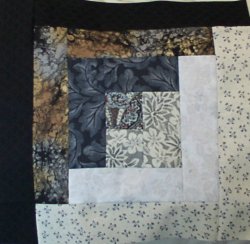 A custom order King Size Black and White and Tan Log Cabin pattern quilt is in the works,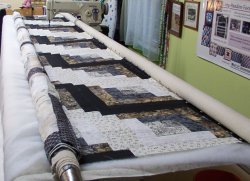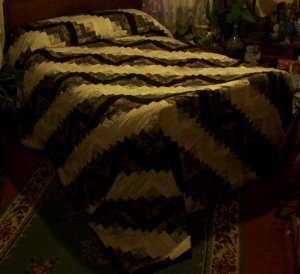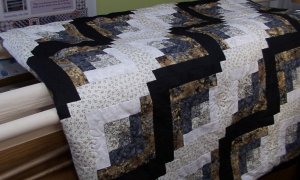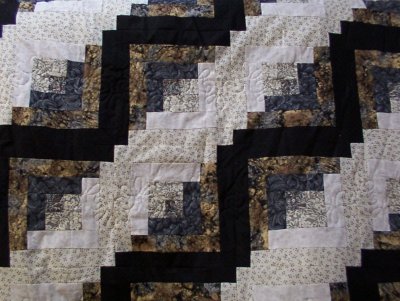 Top is finished, now comes the quilting process, and now it is totally finished!
February 20, 2008.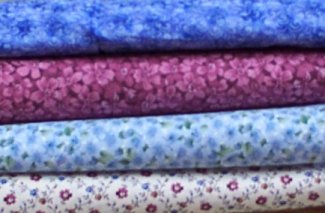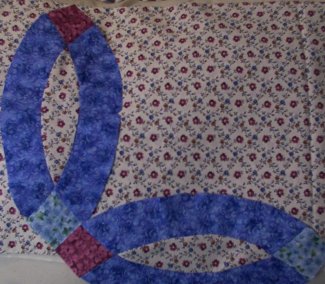 Also being worked on is a Twin size Seamless Arc version of a Double Wedding Ring Quilt.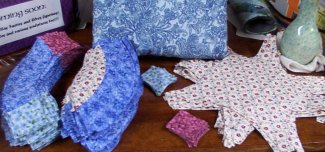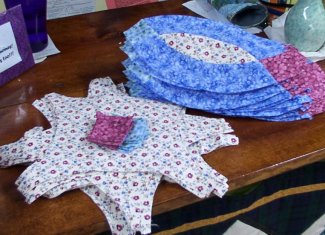 All of the pieces are sewn one by one, closer and closer to completion!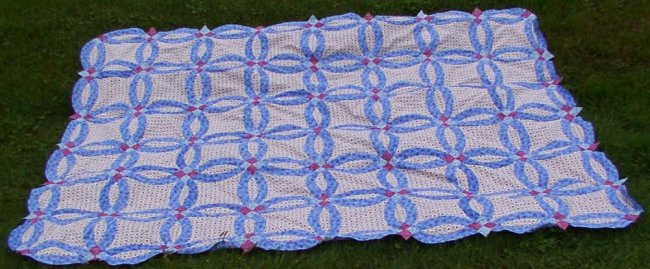 Now the quilt top is finished (complete with points) and waiting for quilting!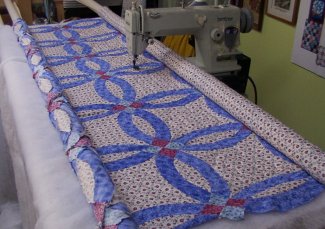 Now the quilt is on the machine being quilted, then comes the binding.
(Two views) The Seamless Arc Double Wedding Ring pattern Twin bed quilt is complete!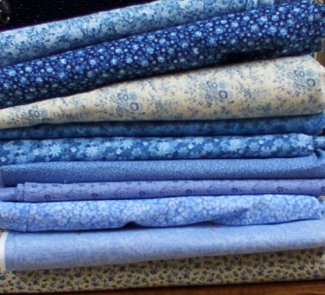 Waiting in the wings to be worked on is a blue Double Wedding Ring King size quilt (September 2007)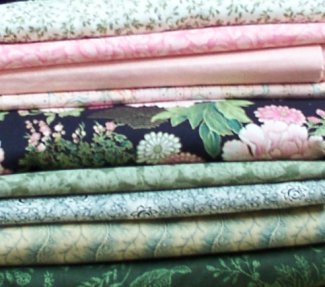 Soon to be started on is a Full size Double Wedding Ring quilt
using the black floral as the centers of the rings!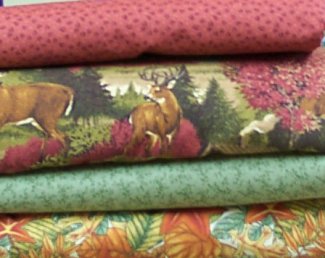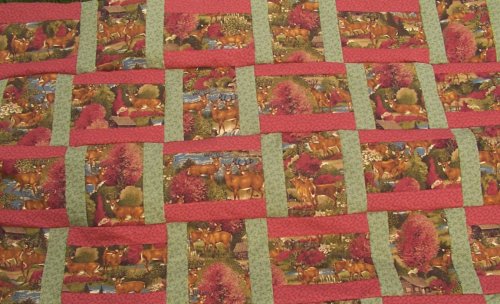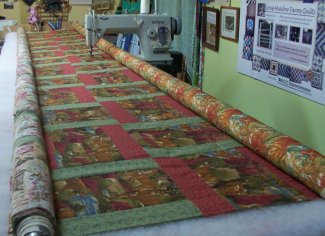 A King size Woven Rail Fence "Whitetail Deer" quilt is in the works,
being quilted, soon to be completed and be ready for display at the Newport shop!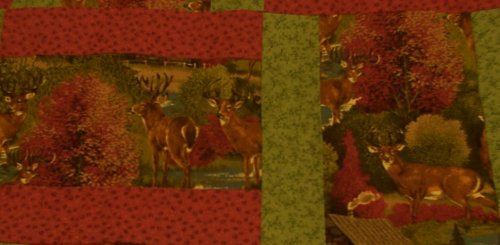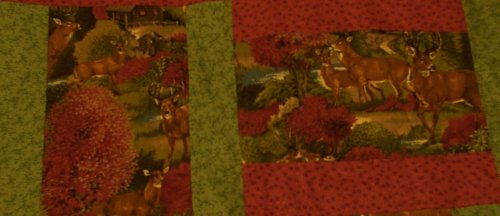 This is a close up view of a couple of the blocks!
......And this is the King Size Autumn Whitetail Deer Quilt completed and available for purchase!!!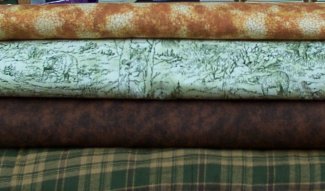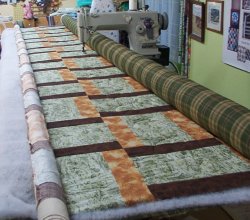 A King size Woven Rail Fence quilt with Black Bears Sketches as the theme!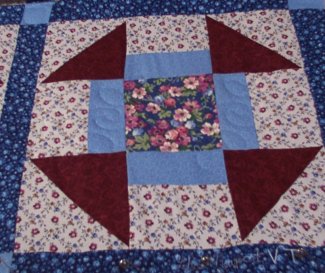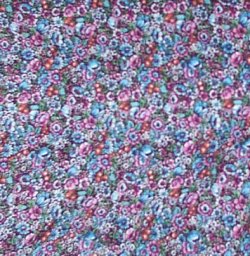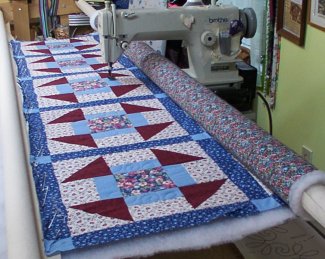 A beautiful twin size Churndash pattern in Blues and Maroons is ready for purchase in Newport, VT!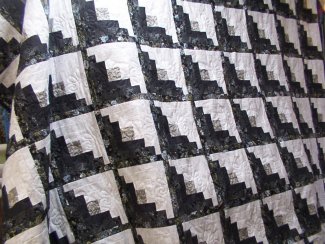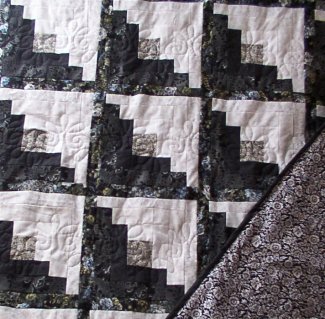 This is a special order oversized full (wider and longer than a normal full size)
made to match the decor of a motorcoach. What a beauty, on its way to winter over in Florida!!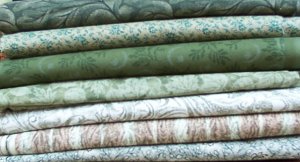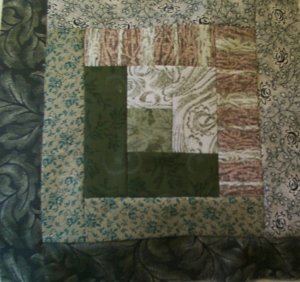 A Sage Green Log Cabin Pattern Queen size quilt, the stack to start and the blocks finished, now for
the top to be pieced together next! (April 22, 2007)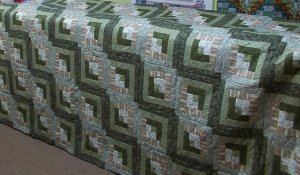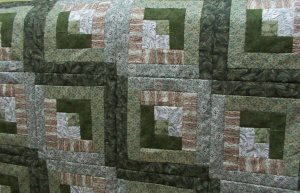 (April 29, 2007) Now the top is finished and is awaiting quilting next!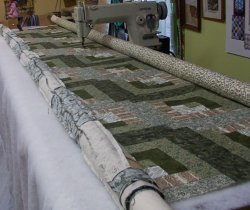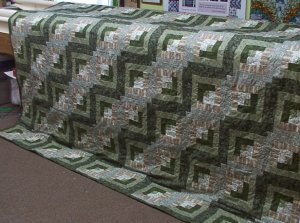 The Queen size top was machine quilted and is now complete
and ready for sale at the Retail shop! (May 6, 2007)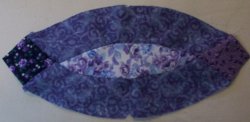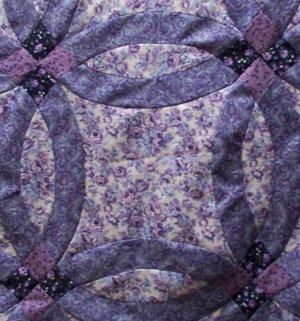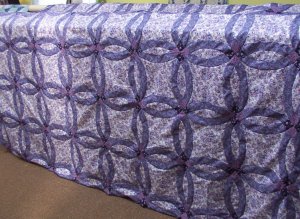 A Queen size Purples Double Wedding Ring (Seamless Arc version) pattern quilt top
is ready to be quilted! (April 15, 2007) Quilt is now complete and for sale at the Retail shop!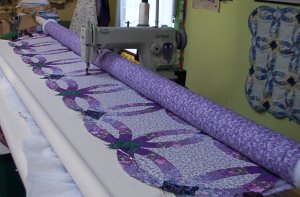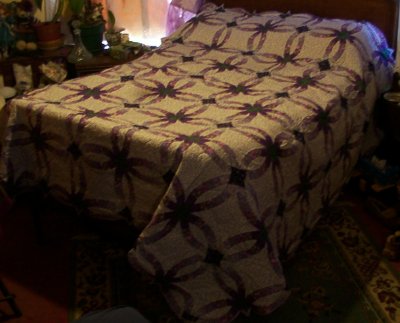 A Queen size Double Wedding Ring Pattern Quilt, over 2,600 individual pieces, now complete
and is available for purchase at the retail shop of Long Meadow Farms Quilts in Newport, VT!!!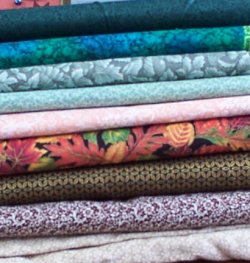 This new stack is destined to be a special order "Trees" themed Double Wedding Ring Twin Quilt!
There are now 1,758 individual pieces cut that will be a Double Wedding Ring Twin Quilt!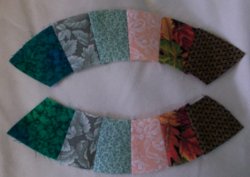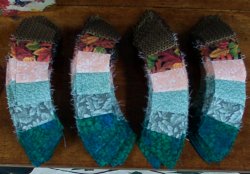 February 6, 2007 the arcs are now completed, all 384 or so of them!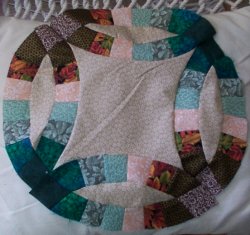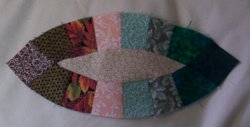 February 7, 2007 the arcs are all attached to melons and one test ring is complete!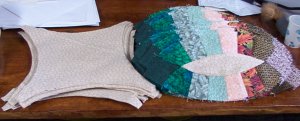 February 8, 2007 the melons and the middles are ready to set into rows.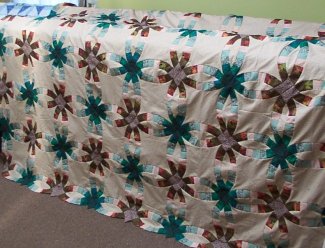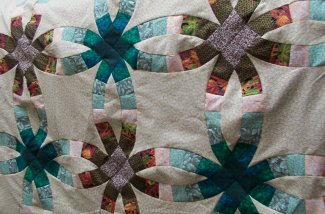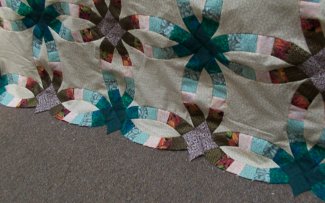 February 9, 2007 the top is complete, including the outer points at the end of each circle.
Now for the quilting!
Stay tuned!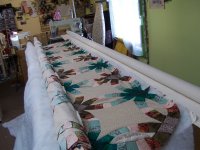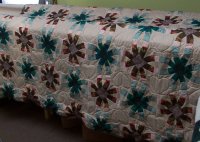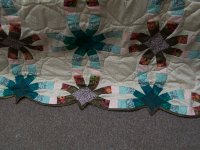 A masterpiece, finished!...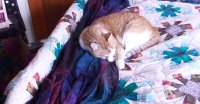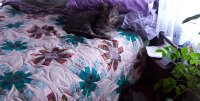 ...and enjoyed by all!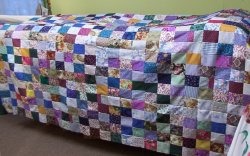 A "Crazy Squares" Twin Size bed quilt top, ready for backing, batting and quilting!!!(Feb 1, 2007)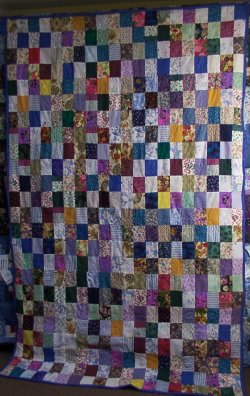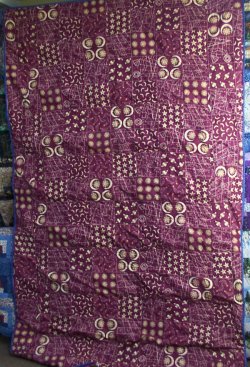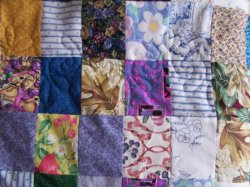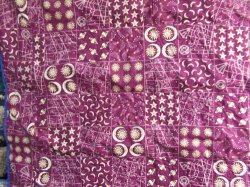 Twin "Crazy Squares" is complete! The back is as unusual as it's front!
To see a larger picture to view the individual squares, click HERE!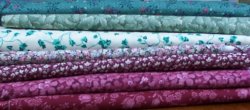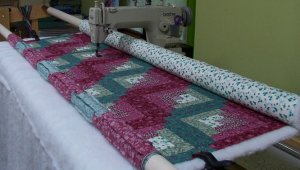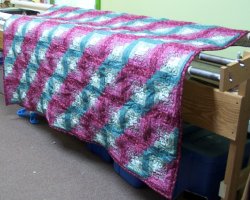 A cranberry and green Twin size log cabin pattern quilt is now complete!

A Full size (Double Bed) Forest Greens Log Cabin pattern quilt is ready and waiting!!!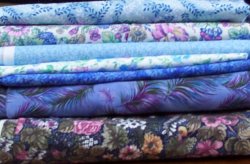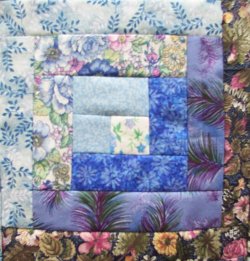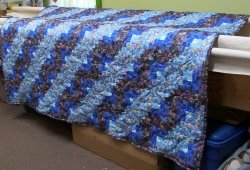 This beautiful blues Twin size Log Cabin Pattern quilt is complete and available!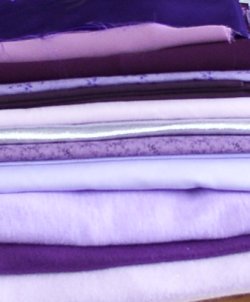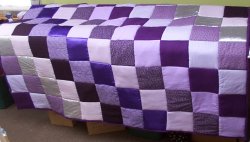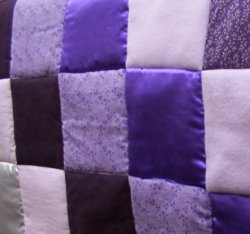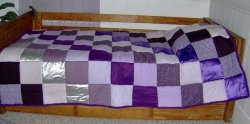 This was a custom order that has been completed, and is in the home! (January 24, 2007)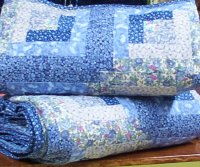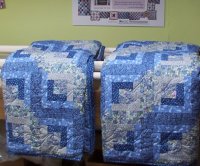 A pair of custom ordered twins that turned out to be even bigger than full size so they can
be enjoyed and used as bedspreads-to-the-floor in Connecticut! (October 22, 2006)
These were made in these special sizes in the same color ranges as a Queen Blues
that was offered for sale at a Craft Show and has since been sold.


The following quilts have been sold but are still pictured here so that
anyone can look at the colors in case they wish to order a custom quilt
in any of the same color ranges as these already sold ones!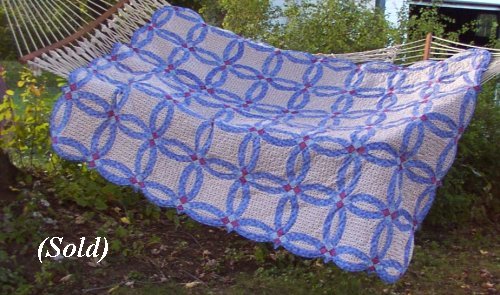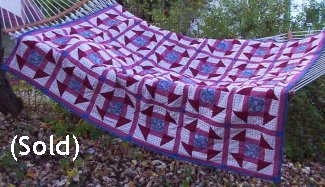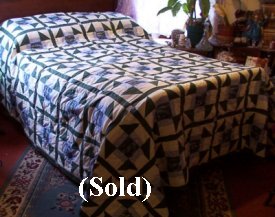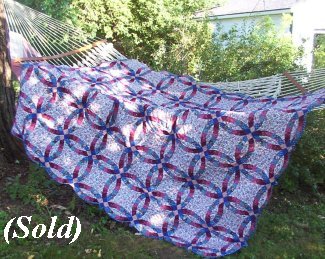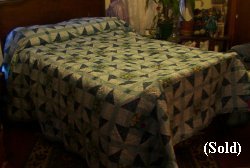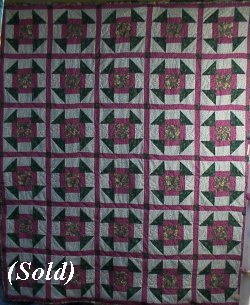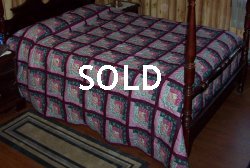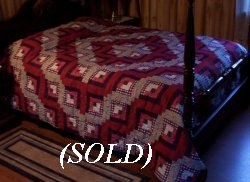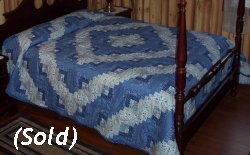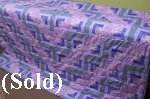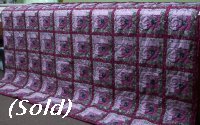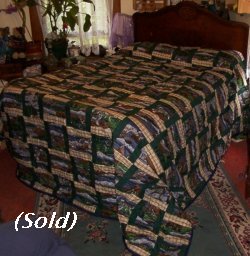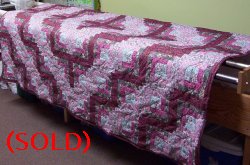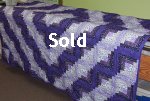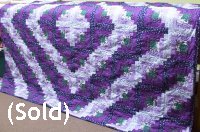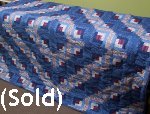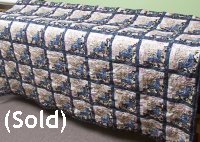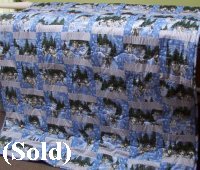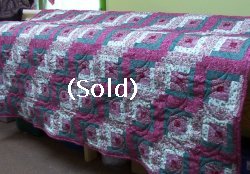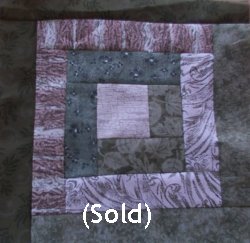 © 1998 - 2011
Last Updated July 20, 2011